Chile is considered to be the world's longest country and is bordered by the Andes mountain range on the east and the South Pacific Ocean on the west. This country in Latin America offers travelers a lot of choices for activities and scenery. There are many amazing attractions, foods and drinks to enjoy while you're in Chile. Whether you want to indulge in some local food or enjoy a nice glass of red wine, there is something for everyone. Friends of mine recently visited and indulged in everything Chile has to offer. Here are some of their top things to see and eat in Chile.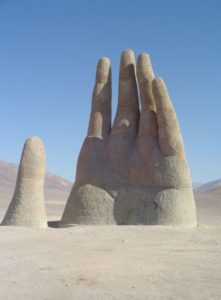 Atacama Desert and Mano del Desierto
West of the Andes mountains lies one of the driest places on earth, the Atacama Desert. It receives less than 1mm of rainfall in a year and there are areas in the desert that never receives any rain. But in the midst of this dry and barren land, there is a giant structure that stood quite outlandish on the sand, this is the Mano del Desierto, an 11-meter giant hand reaching up towards the sky. An instagramable place for the adventurous travelers.
Isla Magdalena
If you want to see penguins, then you must include Isla Magdalena on your list. This is a small island in Magellan Strait that is home to a Magellanic penguin community and would be a haven for bird enthusiasts.
Marble Caves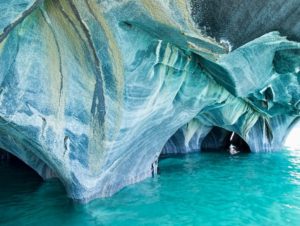 This noteworthy peninsula of solid marble on General Carrera Lake is much more stunning when viewed inside the many cave holes. The iridescence witnessed on the roof of the Marble Caves is a result of the sunlight reflecting the turquoise waters.
Easter Island
The most remote island on earth is also found in Chile, Easter Island, although considered Polynesian is still officially part of the Chilean Republic. This remote but inhabited island is world-famous for the colossal stone sculptures called Moais. The most massive structure called "El Gigante" is a stunning 72 feet tall. These stone sculptures are famous for a lot of myths, thus intriguing adventurous visitors.
Chilean Fog Beer
After a long day of going to beautiful tourist spots, a nice cold Chilean Fog Beer would surely take most of the weariness away. In an area where water is in scarcity, 2 brothers found a way to make water from the desert fog. They invented a net that traps the abundant fogs called camanchaca to obtain fog water, which in turn is made into the famous Chilean Fog Beer.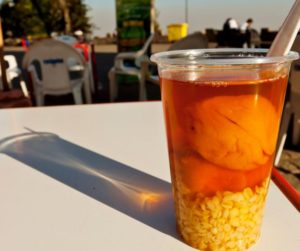 Mote con Huesillos
Another must-try food, which is quite common on the streets during summer, is the mote con huesillos. This fruity dessert is made up of huesillos or peaches, mote or wheat kernels and thick syrup, quite an unusual combination but surely a crowd favorite.